Delaware Super Improved Lots
Master Development Plan fully entitled. Pads are shovel ready. Buyer needs only to obtain building permit for specific building.
"Super-improved Lots" are defined as parcels of land for sale where the Seller designs and constructs the "Common Area" improvements of that parcel to within five feet of the defined building envelope for that parcel's building.
A Super-improved lot includes the following completed scope of work:
Rough Grading, Paving and Striping
Drainage Improvements
Utilities are stubbed within approximately 10' of pad
Rough Grading and Compaction of Building Pad
Curbs, Gutters and Sidewalks (to within 5' of Building Pad)
Site Lighting (excluding any lighting on exterior of Building)
Landscape Planting and Irrigation (to within 5' of Building Pad)
Site furniture, including any benches, trash receptacles, etc.
Commercial Condominiums - Building 4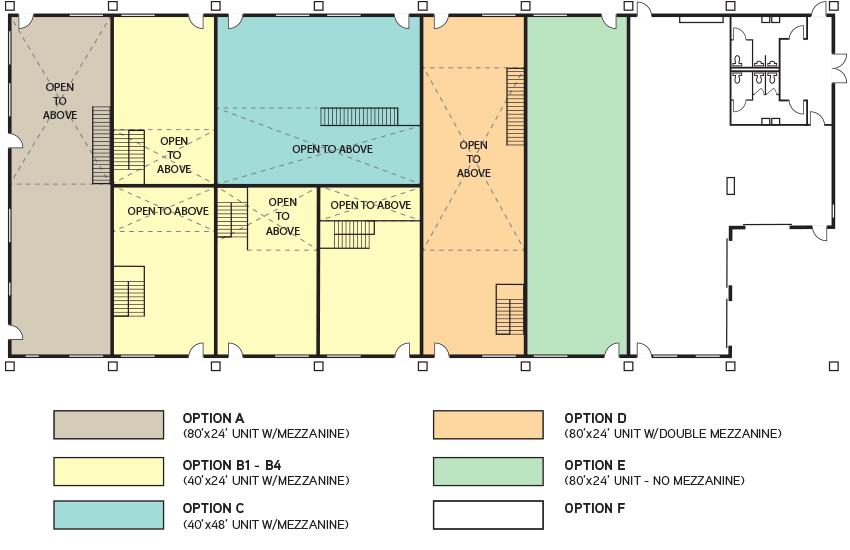 Shell and common area core with 1-10,000 square foot units starting at $300k. Contiguous units may be combined - Please call for specific options.

Download





The Shell will include the following improvements completed by the Seller:
Exterior walls
Glass Storefronts
Demising walls of framed, insulated, taped gypsum wallboard
Membrane roof with insulation above roof structure
Operable windows
Concrete floors, ground floor
Mezzanine Level and Stairway installed in some units
Exterior Windows and Doors
Common Area restroom core
200 Amp Electrical service to the Unit Premises not distributed
Phone and Data conduits stubbed to Unit Premises
Natural Gas stubbed to the Unit Premises
Domestic Water and water sub meter stubbed to the Unit Premises
4-inch waste line below floor slab of Unit
Shell Fire Sprinkler System in Unit interior
The Buyer understands that the foregoing items are the only items that are to be installed or constructed within the Unit by Seller and that Buyer shall be responsible for all other construction and/or installations within the Unit required or desired to make the Unit ready for occupancy and use.
A Unique + Dynamic Mixed Use Environment
As the first major new development opportunity in Santa Cruz in the last twenty years, this project offers a number of unique opportunities in commercial, industrial, and build-to-suit space ranging from 1,000 - 100,000 square feet.

This fully entitled development is zoned industrial with a commercial overlay, and includes a retail/residential component to round out the development.

The project fits the mold of the Santa Cruz lifestyle as a green project, recognized by its LEED Neighborhood certification.
LEED Certification - Living Green
Delaware Addition has been certified as a LEED Neighborhood Pilot Project by the U.S. Green Building Council. We are among the first 25 projects in the United States to earn that award. Delaware Addition has helped set the new international standard for sustainable communities by conserving water and energy, mixing commercial and resident uses in higher-density configurations, locating next to existing communities and infrastructure, incorporating bike and pedestrian ways, providing charging stations for electric cars and amenities that make traditional car trips shorter or even unnecessary.

With LEED Neighborhood certification for the project as a whole, businesses that purchase lots and develop green buildings will have a head start toward their own LEED building certification.

For larger buildings, lots can be combined and third stories can be added. Lots 3, 5, 6, 7 and 8 are shovel ready now and other buildings are also available.
BUILDING
USE
GROUND LEVEL (GSF)
UPPER LEVEL (GSF)
TOTAL BLDG. (GSF)
1
FLEX BUILDING
7,200
3,000
10,200
2
FLEX BUILDING
9,600
3,600
13,200
3
FLEX BUILDING
11,520
4,800
16,320
4
FLEX BUILDING
14,400
4,320
18,720
5
FLEX BUILDING
13,070
5,440
18,510
6
FLEX BUILDING
16,940
5,810
22,750
7
FLEX BUILDING
14,460
6,020
20,480
8
FLEX BUILDING
21,190
7,940
29,130
11
COMMERCIAL/INDUSTRIAL
11,190
11,190
22,380
12
COMMERCIAL/INDUSTRIAL
23,120
23,120
46,240
13
COMMERCIAL/INDUSTRIAL
11,620
11,620
23,240
14
COMMERCIAL/INDUSTRIAL
11,620
11,620
23,240
15
COMMERCIAL/INDUSTRIAL
20,680
20,680
41,360
16
RETAIL
12,120
0
12,120
18
COMMERCIAL/INDUSTRIAL
10,390
0
10,390
19
FLEX BUILDING
10,725
3,930
14,655
20
FLEX BUILDING
11,680
4,290
15,970
21
FLEX BUILDING
15,890
6,290
22,180
22
RESIDENTIAL
39,430
118,290
157,720